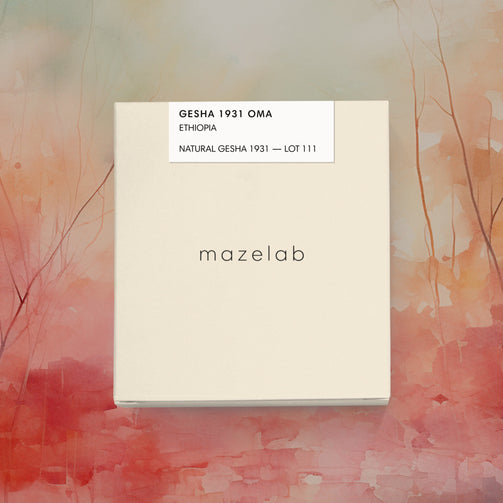 GESHA 1931 OMA
GESHA 1931 OMA
Regular price

Sale price

873 Kč
ETHIOPIA
NATURAL GESHA 1931 — OMA 23/111
RASPBERRY, COMPLEX ACIDITY
LEMON TEA, RED FRUIT SWEETNESS
LIGHT AND TEA LIKE MOUTHFEEL
BLOSSOM AFTERTASTE
Located near the South Sudan border in Ethiopia's Bench Maji zone, Gesha Village is an extraordinary 471-hectare coffee farm. Established 10 years ago by filmmakers Adam Overton and Rachel Samuel, the farm is renowned for its two exceptional Gesha coffee varieties: Gesha 1931 and Gori Gesha heirloom.

The farm's terrain is divided into eight distinct micro-climates, with elevations ranging from 1900 to 2100 meters above sea level. Cherries are carefully handpicked, sorted, and then set to dry on elevated African beds. They're later moved to shaded spots for the final drying phase, which lasts between 15 and 30 days, depending on weather conditions.

One standout varietal, Gesha 1931, is grown on the Oma plot at elevations up to 2,040 meters. Sourced from seeds near the iconic Gori Gesha forest, this varietal boasts an opulent flavor profile. 

By preserving the area's natural biodiversity and providing shade to the fragile Geisha trees, Gesha Village encapsulates the essence of traditional Ethiopian coffee production.
Producer : Rachel Samuel & Adam Overton
Region : Bench Maji
Farm | Coop : Gesha Village
Altitude : 1931 - 2040m
Couldn't load pickup availability