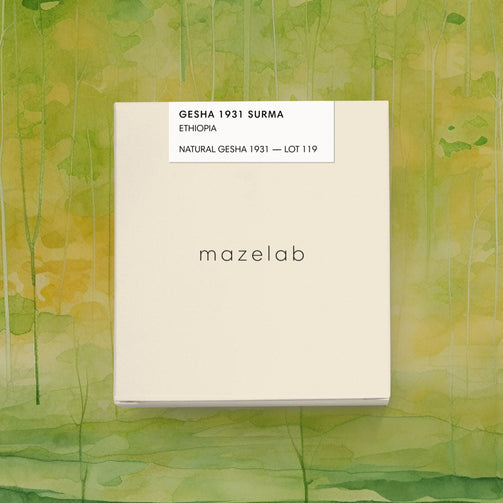 GESHA 1931 SURMA
GESHA 1931 SURMA
Regular price

Sale price

873 Kč
ETHIOPIA
NATURAL GESHA 1931 — SURMA 23/119
TROPICAL FRUITS ACIDITY
CANTALOPE, BROWN SUGAR SWEETNESS
HONEY MOUTHFEEL
JASMINE, FLORAL AFTERTASTE
Gesha Village, co-founded by Adam Overton, Rachel Samuel, and Willem Boot, is a revered 471 hectare coffee farm located in Ethiopia's Bench Maji zone, near the Gesha town and the iconic Gori Gesha forest. Established in 2007, the farm has rapidly ascended the ranks in the specialty coffee arena, boasting around 320 hectares planted with Gesha 1931, Gori Gesha, and Illubabor Forest varieties across eight unique terroir zones.

These zones, named after neighboring villages and landmarks — Bangi, Dimma, Gaylee, Oma, Narsha, Surma, Shewa-Jibabu, and Shaya — contribute to the farm's diverse offerings. The farm employs agroforestry practices, primarily using natural forests for shade and fostering a symbiotic ecosystem rich in wildlife and flora. The soil is an untouched blend of brown-red loamy and forest earth.

The Surma block contributes 10% of the farm's total production and produces what are known as "The Rarities"— Gesha Village's crème de la crème, aside from their auction lots. These unique coffees are often selected for international competitions by elite baristas.

The beans undergo a natural drying process, remaining in the cherry and laid out on elevated African beds for nearly 28 days under the sun. 
Producer : Rachel Samuel & Adam Overton
Region : Bench Maji
Farm | Coop : Gesha Village
Altitude : 1909 - 2063 m
Couldn't load pickup availability